Dating site review: just the bare facts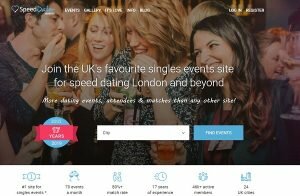 Speeddater.co.uk is a British dating site that offers special services, so-called speed dating. The owner is Cupid PLC dating corporation that has various sites-affiliates worldwide. If you aren't a beginner in virtual dating, you might already know that Cupid products are either complete success or a complete failure and even a complete scam. Guess which description is the most suitable for Speeddater if its rate is so surprisingly low. Let's analyze together why.


You could try this out: online speed dating site
When services are "special" they are always costly. It's not a new fact. What isn't normal is tricking the people in order to make them pay for a membership, then withdrawing the money regularly without their permission and disappointing them in all other ways too. Does Speeddater do that? Yes, it does, and that's why the users are so unhappy with it.
Usually, the majority of complaining people are the students or too thrifty people, but it's not the case with Speeddateronline. It's all about the unfair strategy and lots of fraud. The routine system is the following:
you see the ad or another kind of notification about the upcoming "speed dating event" in some club nearby you;

they describe all available options and advantages of it including the free membership after, so you accept and attend;

first of all, the event isn't that attractive at all because of the ridiculously small ratio of the girls and too controlling personnel of the company (maybe they won't even let you in for some awkward reason);

signing up for this "free" membership you provide your bank card data for future upgrading, but the system upgrades you immediately and keeps on charging you every month until you actually notice that, and even then you cannot quit that easily;

the real activity on the site isn't as big as declared so it doesn't meet your expectations at all;

when you contact the girls from the events as friends only or even don't contact them at all, the company charges you like if you took them to the real date;

when you notice the administration keeps on withdrawing the membership payment automatically and you try to cancel it, there are too many steps to accomplish and the confirmation code is never sent by them in time; finally, they refund the payment only partially so their illegal actions start looking like half-legal.
In case you learned about the site on the Internet and not through the upcoming event, you might decide to go for a short trial and you'll be immediately attacked by the ghost users and bots that look and sound like fantastic real girls. Being deeply intrigued and almost in love, you are going to buy the subscription and hop! – suddenly there is a silence around you. No one is interested anymore.
This scenario is described by the real users multiple times and it's no fun to feel it on your own skin. Surprisingly, after so many negative responses Speeddater.co.uk is still "alive" and even produces super positive responses about itself, publishing them on the page "reviews". Even if those are just well-selected responses written by the real users (after all, someone has to be optimistic and randomly satisfied on this planet), we would still prefer this kind of evidence to arrive from a neutral source, – i.e. from the official sites of dating reviews.
Well, Speeddater isn't just alive and very self-confident, but also proud of itself. "16 years of experience," Speeddateronline claims, but experience in what? Satisfying the clients or fooling them? "80%+ match rate," it claims then, but that sounds too fantastic even for the best dating sites on the Internet, and we would really like to see the proof on independent forums. But alas, reassuring success stories exist only within the content of the site and nowhere else. For sure, people love fun and some of them enjoyed this or that part of the speed date event but not the consequences such as automatically renewed membership and fake messages.
British women: 5 reasons why you should date girls from UK
One of the amusing stories about Speeddater comes from David, 29 who says all of the stunning women who wrote to him and tried to make him buy a membership, were from the same town named Gosport. Was this title chosen because the site administrators have been trolling the users and making hints about the Ghost port / spot? Very witty but not too fair or respectful. The most positive response that we found was: "boring". And that's indeed a compliment among all the critics received!
The most important "product" of any dating site is women. It's not a cynical saying but a marketing truth. Here is how the women met through Speeddater.co.uk were described by men: "overweight", "boring", "fake", "hired models", "hired actresses", "hired professionals", and only sometimes – "genuine".
So it's up to you whether you decide to use this site or not, but at least now you know what to expect.